ENERGY WORK: ReikI, Sound Meditation, and BIOMAT TREATMENTS
Experience Reiki, a Japanese technique for stress reduction and relaxation that also promotes healing.  For a multi-dimensional experience lay on the Amethyst BioMat and end with a sound meditation.  Or, benefit from any of these modalities following a Yoga Therapy session.  Consult with Mary and she can help guide you.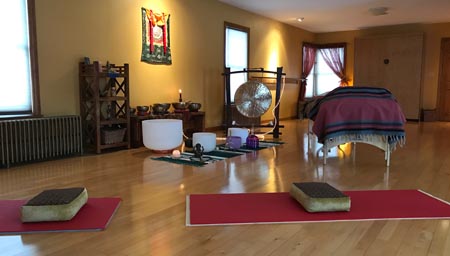 ---
Reiki
Relax ... reduce stress ... rejuvenate ...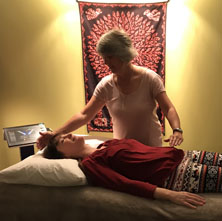 Fees:
Call Mary for a free phone consultation 518-354-2425. She'll help you choose the service(s) suitable for your needs.
Reiki Healing alone or combine with guided meditation, Sound Meditation, or Yoga Therapy.
In-Studio Fees:
$35/ 30 mins.
$65 / 60 mins.
$80 / 75 mins.
$100 / 90 mins
$130/120 mins.
$25 extra for 2nd person (Yoga and Sound Meditation, only)
Call for session rates off-site at your home, camp, lodging facility ...
Appointment examples:
35 minutes:Guided and Sound Meditation
60 minutes: Reiki, Sound Meditation, Integration.
75, 90 or 120 minutes: Yoga Therapy, Reiki and/or Sound Meditation, Integration.
A uniquely nourishing experience!
Receive a treatment in the Traditional Usui System of Reiki Healing created by Dr. Mikao Usui in Japan in the 1920's.  Reiki uses the philosophy that we all have the ability to heal ourselves and each other through the divine Universal Life Energy (REI) and Life Force (KI) also known as Chi.  Similar to other energy practices like Qigong and Tai Chi, Reiki helps to unblock and re-establish a healthy flow of energy throughout the body.  Physical, emotional or mental stress can restore itself to perfect health.
Reasons you may want to experience a Reiki session:  Relieve emotional distress, increased mental clarity, pain relief, relaxation, speed up recovery from surgery or illness.  Regular treatments can improve overall health.
---
Reiki helps to restore the body's natural ability to heal and create balance.
---
How is Reiki different from other therapies?
Reiki is holistic in its approach and works not only with symptoms a person experiences, but the root cause of the imbalance as well.
How do I know this is right for me?
People who have a nagging feeling that something in their life or body is out of balance or they feel like they are struggling within themselves and their environment usually find Reiki at the perfect time for them. The fact that you are reading this brochure could be the sign that you are ready to heal and experience growth.
What to Expect during a Reiki Session
You will complete a confidential client history form that outlines the areas in your body and life that you would like the session to focus on. This will also help the practitioner monitor your progress from session to session. Once you have asked any questions you have, you will lie fully clothed on a therapy table. The practitioner becomes a channel for the Universal Life energy to flow to the client by placing her hands over various parts of the client's body in a sequential method. At the end of the session, you can discuss any questions you may have with the practitioner. Plan an hour for your appointment.
---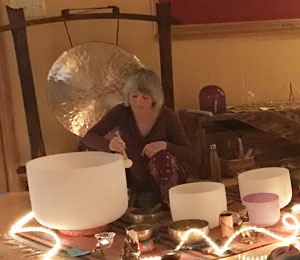 Sound Meditation
Bathe in sonic vibrations.
Be transported away from the mind into a meditative state while hearing the sounds and feeling the vibrations of crystal and Tibetan singing bowls, chimes and a Gong. As in most meditation, a single point of focus helps to transcend mind activity and shift oneself into different states of consciousness.  The sounds produced from the instruments noted work beautifully as there is no need to concentrate the mind as in reciting a mantra or counting the cycles of breathe.  Most people just drift into a calm deeply relaxed state.  On client said, "the sounds washed away my cares, I left feeling renewed."
There are four states of consciousness:  waking, sleeping, dreaming and meditative. Sri Sri Ravi Shankar, says "Wakefulness and sleep are like sunrise and darkness.  Dream is like the twilight in between and meditation is like the flight to the outer space, where there is no sunset, no sunrise, nothing!"
Meditation has many benefits but, a very important one is that most people sleep better.  Meditation is known to be an antidote for restless sleeping, insomnia and resulting fatique.  So, if you are one of the multitude of people who do not get enough sleep and rest, which then results in a host of physical and emotional issues, meditation can provide a good dose of revitalizing energy.  With regular practice, the transformative affects can be quite profound.
For private meditation sessions combined with sounds or meditation training contact Mary click here …> and see below.
More on meditation benefits click here …>
For upcoming Group Sound Bath Sessions check our schedule page click here.
---

Amethyst BioMat®
Enhance health benefits from negative ions and far infrared rays
The BioMat is a product of modern technology with proven efficacy for helping people suffering from minor muscle and joint pain all the way to arthritis.
Treatment options. Lie on the Mat:
as a stand alone treatment with or with out relaxing music
during a Reiki session
along with a guided personalized meditation
take the mini mat home rent it for up to a week
The BioMat is a registered FDA medical device that is being used in hospitals and therapeutic clincs. It is recommended for athletes, carpenters, construction workers, office workers, the elderly, the disabled, or anyone who plays hard or performs physically demanding work.
---
Guided Meditation and Yoga Therapy
Adapting Yoga and Meditation to individual needs.
---
---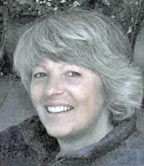 Mary Bartel, Yoga Therapist, Meditation Instructor, Reiki & Sonic Healing Alchemist Practitioner.
"Finding balance is an Inner Quest. By working with Reiki you can realize an intimate connection to your body's energy as it appears in any given moment and as an opportunity to respond proactively."
Inner Quest Yoga & Wellness Center
You are the