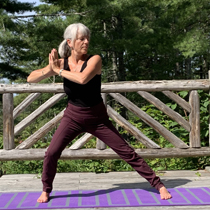 Mary L. Bartel, C-IAYT, E-RYT500
Mary Bartel, E-RYT-500, C-IAYT. Yoga provided the healing pathway for Mary since 1998 when chronic neck and back concerns became debilitating. She began teaching Kripalu yoga in 2000, and in 2005, she opened Inner Quest Yoga & Wellness Center, in Saranac Lake, NY and devoted herself full-time to the study and sharing of yoga and energy cultivation practices as her profession.
Mary has extensive training with Mukunda Stiles and Richard C. Miller, PhD, being her most influential teachers. Mukunda certified Mary as a Structural Yoga™ Therapist and Instructor in 2008. Through the wisdom he imparted, she found that a life of balance, steadiness, and ease of being - the aim of yoga - requires adapting yoga techniques and lifestyle to one's individual needs in a mindful, functional, and practical fashion. Richard certified Mary as an iRest Yoga Nidra instructor in 2011. iRest, the practice of self-inquiry meditation and deep relaxation, awakens the realization of the obstacles that need your attention and healing.
Mary has been studying and incorporating Qigong and Taoist Yoga into her practice and teaching. She enjoys the emphasis on energy healing, the laws of nature, symbolism of postures and gestures, and the effect the various practices have on promoting vitality and longevity.


Qualifications:
Registered Certified Yoga Therapist, International Association of Yoga Therapists (C-IAYT)
Certified Structural Yoga™ Therapist & Instructor, The Yoga Therapy Center with Mukunda Stiles
Certified Kripalu Professional Yoga Teacher, Kripalu Center for Yoga & Health included Vinyasa training w/Shiva Rae, Inner Body Flow w/Angela Farmer, Chakra, Restorative and Pre-natal Yoga
Certified IRI iRest Yoga Nidra Meditation Teacher, Integrative Restoration Institute with Richard C. Miller, PhD
Certified Instinctive Meditation Instructor with Lorin Roche, PhD & Camille Maurine
Certified Mindfulness Based Relapse Prevention Instructor, UCSD Center for Mindfulness, with Sarah Bowen and Neha Chawla
Mindfulness Based Stress Reduction: Living the Full Catastrophe Training
Certified Yin Yoga Teacher Training with Corina Benner
Various Qigong & Taoist Yoga programs
Structural Yoga Teacher Trainer
Certified Sonic Alchemist Practitioner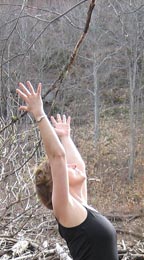 ---
In recent years, Mary felt a natural pull towards training in energy work. She is a certified Reiki Master III (teachers Peter Manns & Kristin Churco) and Sonic Healing Alchemist Practitioner with Jay Schwed.
---
If you are ready to devote yourself to practices that will enhance your vitality as well as deepen your spiritual growth, Mary wishes to help you on an Inner Quest to find what is innately yours: strength, peace, wisdom, and much joy.
---
Click here to set up a free phone consultation with Mary
or call 518-354-2425.
Inner Quest Yoga & Wellness Center
You are the visitor. Thank You for stopping by.