Mary L. Bartel, C-IAYT, E-RYT500
Yoga provided the healing pathway for Mary almost 20 years ago when chronic neck and back concerns became debilitating. Mary began teaching yoga in 2000, and while her yoga training has been diverse, it was Mukunda Stiles who became her most influential teacher. Mukunda certified Mary as a Structural Yoga™ Therapist (SYT) in 2008. Through the wisdom he imparted, she found that a life of balance, steadiness and ease of being - the aim of yoga, requires adapting yoga techniques and lifestyle to an individual's needs in a mindful, functional, and practical fashion. For her, Mukunda was a true yogi, empowering to find truth via the heart, our inner teacher.
In 2005, Mary opened Inner Quest Yoga & Wellness Center, in Saranac Lake, NY, in the Adirondack Mountains. She offers private SYT sessions, teaches small group and private yoga and meditation classes, hosts retreats, and continuing education programs for yoga instructors.
In 2011, Mary incorporated her training in iRest Yoga Nidra Meditation and Mindfulness Based Relapse Prevention into her work and with those in treatment for recovery of alcohol and substance abuse, including veterans. She has conducted programs for back care, cancer patients and others with chronic health conditions.

Primary Certifications:
Registered Certified Yoga Therapist, International Association of Yoga Therapists (C-IAYT)
Structural Yoga™ Therapist & Instructor, The Yoga Therapy Center with Mukunda Stiles
Kripalu Professional Yoga Teacher, Kripalu Center for Yoga & Health included Vinyasa training w/Shiva Rae, Inner Body Flow w/Angela Farmer, Chakra, Restorative and Pre-natal Yoga
IRI iRest Yoga Nidra Meditation Teacher, Integrative Restoration Institute with Richard C. Miller, PhD
Mindfulness Based Relapse Prevention Instructor, UCSD Center for Mindfulness, with Sarah Bowen and Neha Chawla
Mindfulness Based Stress Reduction: Living the Full Catastrophe Training
Yin Yoga Teacher Training with Corina Benner
Reiki Master Level III Practitioner wtih Peter Manns
Sonic Healing Alchemist Practitioner with Jay Schwed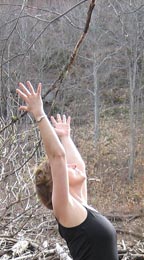 ---
In recent years, Mary felt a natural pull towards training in energy work. She is a certified Reiki Master and Sonic Healing Alchemist Practitioner.
---
If you are ready to devote yourself to practices that will enhance your vitality as well as deepen your spiritual growth, Mary wishes to help you on an Inner Quest to find what is innately yours: strength, peace, wisdom, and much joy.
---
Click here to set up a free phone consultation with Mary or call 518-891-9944.
Inner Quest Yoga & Wellness Center
You are the visitor. Thank You for stopping by.