Meditation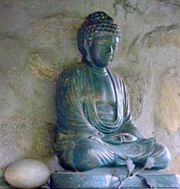 "Mindfulness Meditation is paying attention, in a particular way:
On purpose, in the present moment, and without judgment."
- Jon Kabat-Zinn
---
Mindfulness Meditation
The art of relaxation & STRESS REDUCTION
Saturday, April 17 - 10:15am - 12:15pm
Held at Inner Quest Yoga & Wellness Center, Saranac Lake

During this session Mary presents a mind-body approach merging clinically-proven interventions as a certified instructor of Integrative Restoration (iRest) Yoga Nidra/Meditation and the Mindfulness Based Relapse Prevention Program and from training in the Mindfulness-Based Stress Reduction Program: Living the Full Catastrophe. This experiential class with simple mindful practices and theory presented will help cultivate your awareness to live with greater ease and vitality. The pitfalls of practice are universal and are actually messages that can wake you to freeing up energy, long held 'stuff' so you may reclaim precious moments of your life. Come learn and practice how to be less impulsive and compulsive, and more spontaneous and free.
Questions Email us or call Mary.
Investment: $30
(Includes material to read / review)
---
---
PAST Offerings - Contact Mary if interested in the following programs
Introduction to Mindfulness Meditation - It's not what you think!
During this session, you will practice Mindfulness meditation. The formal practices of meditation allow you to see that it is an on-going way of being and opening to your senses moment to moment. Meditation cultivates a letting go of the ego mind where we get caught up and struggle with old or futuristic thoughts and emotions. We come to learn that when we reclaim the present moment in awareness life happens! We come to realize that suffering arises when we want things to be different than they are. Mindfulness makes us wake up to the reality that "change is" no matter what our mind wants! When you practice Mindfulness formally, you ultimately find yourself more skillfully adapting to your life circumstances, responding versus reacting to what is naturally occurring.
Class fee $15
Sign up by clicking the PayPal Buy Now link below.
Or drop off cash or a check payable to Inner Quest Yoga @ Inner Quest Yoga or Bliss & Vinegar
Held with a minimum of six participants.
Questions Email or call Mary 518-354-2425.
---
Mindfulness and the Twelve Steps for Everyone
This is a program for those seeking spiritual development in practicing the Buddha's Mindfulness teachings and the principals of the Twelve Steps. The program is a wonderful adjunct for discovery or recovery, in that it ultimately uncovers that consistent mindfulness practice is vital for well-being and an enriching life. Yoga (meditation is yoga and a technique of yoga) teachings promise that self-inquiry is essential for transformation. The Buddha's teachings reveal that understanding, compassion, and forgiveness essentially carve our way to emotional freedom.
Regular class fees apply. Click link above.
---
Mindfulness Based Relapse Preventation Program
Offered one-on-one or via Skype or Group format
Mindfulness Based Relapse Prevention (MBRP) is a mind-body approach merging clinically-proven interventions from G. Alan Marlatt's Relapse Prevention Therapy and Jon Kabat-Zinn's Mindfulness-Based Stress Reduction program, created specifically for people recovering from substance abuse and addiction.
Space is limited to 10 participants. Interested individuals email us.
Ten (10) 90 min. Group Classes
Currently VIA SKYPE 1:1 or in the Studio 1:1
---
Mindful Movement and Meditation Mini Series
Theory and Practice
---
SPRING INTO WHOLENESS
Learn how to progressively develop a meditation practice.
Cultivate a living relationship with spirit.
Do you want to ...

Reduce STRESS and be more present, more at peace, more effective?
Gain clarity and insight into your relationships, work and your life?
Uncover the joy and peace that underlies your phenomenal life experiences!
In this series we will explore, through theory and meditation, the Yogic model for understanding and feeling your multi-dimensional body.
Group Program: Mini Series (5 Classes - 90/mins. each)
Exchange: $90
One-on-one private sessions: $65/hr.
---
Integrative Restoration - iRest Yoga Nidra - 8 week Intensive

An 8 week immersion program - 90 minute classes
iRest is an evidenced based transformative practice of meditative inquiry. During this eight week immersion program, you will learn and practice a ten step protocol of Integrative Restoration, and learn how and when to use one or more of the steps in everyday life and in meditation.
Research has shown that iRest effectively reduces: PTSD, Anxiety, Depression, Insomnia, Chronic pain, Chemical dependency and much more.
Click for more... >
If you are interested in joining this class, but can't attend all classes.
Email Mary.

---
Yin Yoga & Integrative Restoration (iRest Yoga Nidra) Meditation

A mini series that invites you to withdraw your attention inward = Pratyahara, the fifth limb, in the eight fold path of yoga. The practice of pratyahara removes disturbances caused by our senses. This somewhat mysterious limb can create some confusion. We'll practice Yin Yoga and iRest Yoga Nidra meditation techniques, to gain a deeper understanding of how practicing the precept of pratyahara can keep you grounded and moving more gracefully through your days.
Fee: $84 six (6) classes, $15 drop-in fee.
Classes held with 6 people pre-registered.
Interested? Email us.

---
Mindfulness in the Workplace
Can you see we''ve become a society that is over-stimulated and fast paced? The greater population is sleep-deprived and exhibiting numerous unhealthy symptoms that point to highly charged nervous systems. We know at some level something must give, but life''s infinite demands at home and work leave many with little time to tend to their health—body, mind and spirit.
Including Mindfulness workshops and programs as part of your employee wellness offerings can lead to better personal functioning and a higher performance environment in your workplace. My personal experience and customer survey results from teaching mindfulness to hundreds of people have shown that mindfulness training:
Increases awareness in one's self and others
Enhances attention, focus and concentration
Enhances one's resiliency and emotional intelligence
Improves cognitive skills
Mindfulness to the rescue ...
Workshops and Programs Available
Call Mary to get started.
---
Mindful Eating for Spiritual Sustenance
In this healthful workshop Mary will introduce:
How to make the deep connection that "you are what you eat - body, mind, and spirit."
Food Yoga: Key Yogic and Ayurveda philosophy. Ayurveda means "life knowledge".
Yogic practices for desired changes to happen.
In this workshop we will:
Explore your truth about food and eating - a series of questions will be presented to complete as self-inquiry prior to attending the session.
Explore 12 Yogic Principals for Nourishing Yourself (with food and while eating).
Have fun
Leave feeling good about beginning where you are at with a renewed sense of how to use food for nourishing yourself body, mind and spirit.
Three & one half (3-1/2) hrs. workshop.
Note: This is not a diet, it is a way of being!
Space is limited to 12 participants.
Interested in this workshop? Email us.