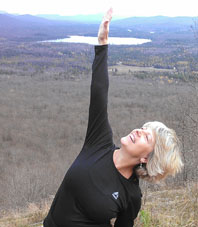 'Back in the Healing Woods' Retreats in the
Adirondack Mountains

Oct. 27-29, 2017 Lake Clear Lodge, Lake Clear, NY
June 29-July 1, 2018 Wiawaka Women's Center, Lake George, NY
Private retreat costs:

:
We'll consider the following: # of people, length of your retreat - 1/2 day, full day, weekend, or longer, lodging on and/or off site.

We will work with your budget and make your retreat fit your needs.
Lake Clear lodge - WELLNESS WEEKEND
Nourishing the multi-dimenstional body
Rt. 86, Lake Clear, NY in the Adirondack Mtns.
Yoga, Meditation Retreat
Oct. 27-29, 2017 (Friday - Sunday)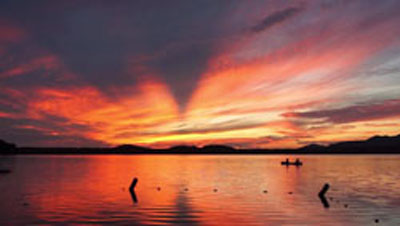 This retreat will provide you with the opportunity for exploring the magnificence of your multi-dimensional body and feeling nourished on your deepest soul level.
Let-go … Let-be … Dive Inward
Recollect and reconnect with your whole sense of being

Come:

Experience yoga and meditation practices that are progressively enlightening, rooted in the classical yoga teachings from the great sage Patanjali's eight limbed path.
Experience mindfulness meditations and teachings from the Buddha, which guide practitioners to greater awareness.
You'll be guided in deepening your sensitivity, to experience your multi-dimensionality from the densest of feeling sensations to the subtlest, and feel how all is interconnected.
Leave renewed ... and with a sense of wholeness.
The Yoga movement is adaptive and for every body
(Please contact the presenter if you have concerns or questions).
Weekend fee: $375, two nights lodging (double occupancy room) - early bird til Oct 20, $415 thereafter, two breakfasts and two dinners and all programming, cooking demo, use of canoes and bicycles, nature trail, waterfront property.Click here to see the schedule (all activities are optional).
No yoga or meditation experience required.
This Yoga and Meditation Retreat may be combined with events from the
Convergence of Wellness Retreat - October 25-30 also at The Lake Clear Lodge
Extend your stay or enhance your weekend experience click here for more information
Back in the Healing Woods Retreats
In the Adirondack Great Camp Tradition
---
Great Camp Sagamore - WELLNESS WEEKEND
On Lake Sagamore, Raquette Lake, NY in the Adirondack Mtns.
Yoga, Meditation & Paddling Retreat
TBD (Friday - Sunday)
Renew your spirit 'Back in the Healing Woods'. Sagamore's extraordinary remoteness provides the ideal setting for an experiential weekend of nourishing yoga, guided, walking, and sound meditations. Plus, there will be other complementary activities and/or time to connect with nature.
This weekend will provide you with the perfect opportunity to recollect yourself and reconnect to the natural world. Unplug from your usual busy routine, and leave with a refreshed feeling of what is most essential.
---
Private Weekend Retreats
A retreat in the Adirondacks - Great North Woods is perfect anytime of year.
We design and host personal yoga and meditation retreats for individuals, couples, and small groups - half or full day, weekend or longer.

To consult and discuss retreat options please contact us (our contact info is listed above).
Inner Quest Yoga & Wellness Center
© Inner Quest Yoga · Responsive Web Design:
You are the