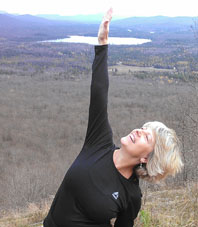 'Back in the Healing Woods' Retreats

---
Private retreat costs:

:
We'll consider the following: # of people, length of your retreat - 1/2 day, full day, weekend, or longer, lodging on and/or off site.

We will work with your budget and make your retreat fit your needs.
Back in the Healing Woods Retreats
In the Adirondack Great Camp Tradition
---
Great Camp Sagamore - WELLNESS WEEKEND
On Lake Sagamore, Raquette Lake, NY in the Adirondack Mtns.
Yoga, Meditation & Paddling Retreat
August 25 - 27, 2017 (Friday - Sunday)
Renew your spirit 'Back in the Healing Woods'. Sagamore's extraordinary remoteness provides the ideal setting for an experiential weekend of nourishing yoga, guided, walking, and sound meditations. Plus, there will be other complementary activities and/or time to connect with nature.
This weekend will provide you with the perfect opportunity to recollect yourself and reconnect to the natural world. Unplug from your usual busy routine, and leave with a refreshed feeling of what is most essential.
---
Private Weekend Retreats
A retreat in the Adirondacks - Great North Woods is perfect anytime of year.
We design and host personal yoga and meditation retreats for individuals, couples, and small groups - half or full day, weekend or longer.

To consult and discuss retreat options please contact us (our contact info is listed above).
Inner Quest Yoga & Wellness Center
© Inner Quest Yoga · Responsive Web Design:
You are the