Pelvic Floor & CORE Yoga
w/Mary Bartel, Structural Yoga Therapist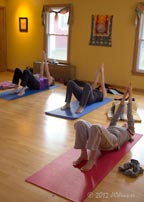 Like many women, you may be experiencing symptoms telling you to give attention 'down below'. When pelvic floor muscles are tight and/or weak you may leak and may disregard it. Continued weakening can lead to sagging organs your pelvic floor supports.  Yikes is right! So ladies, let's gain control, get better connected down under.
In this session you'll practice a short yoga sequence and breathing exercises you can do at home, and some can be done anywhere.
Improve bladder and bowel control
Support your bladder, bowel and uterus function.
Reducing the risk of organ prolapse.
Improve recovery from childbirth and gynecological  surgeries. 
Improve sexual sensation and function and pain during sex.
Improve your social confidence and the quality of your life.
Attend this session virtually or In-person. You
Participantsl receive a handout with the practices.
---
---
Please call Mary if you have any questions 518-354-2425.
---
If on a mobile device (tablet, smartphone) please Click here return to the Schedule. If on a PC, the site should be in the background, please click to close window below.
Inner Quest Yoga & Wellness Center
You are the visitor. Thank You for stopping by.