Joint Freeing for Arthritis Reief
w/Mary Bartel, Structural Yoga Therapist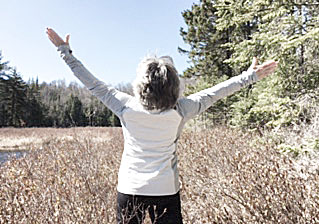 Learn about and practice Structural Yoga's gentle Joint Freeing Sequence, exercises therapeutic for the whole body ankles to neck. Many people report how good they feel, like you've given yourself a massage!
Practiced regularly you will experience:
Increased muscle tone and flexibility
Improved joint range of motion
Reduced stiffness and bodily aches
Improved posture
Greater peace of mind
Learn to develop a keen feel to effectively adapt all movemenve as compared to normal range of motion, safeguarding you from over extending yourself and injuries.
Attend this session virtually or in-person
Participants receive a handout for home practice.
The Joint Freeing Sequence is the foundation of Structural Yoga Therapy. All functional joint movements are practiced. The complete set of 21 movements can be done on the floor, sitting in a chair or standing. While arthritis may keep you from wanting to move, the freedom of movement you feel after you practice will keep you returning to the practice. You will be able to do more of what you enjoy and need to do.
---
As a yoga therapist, Mary's style is functional, practical, slow moving and mindful. She aims to inspire students with the ancient wisdom and spiritual practices that have guided her for over 20 years.
---
---
Please call Mary if you have any questions 518-354-2425.
---
If on a mobile device (tablet, smartphone) please Click here return to the Schedule. If on a PC, the site should be in the background, please click to close window below.
Inner Quest Yoga & Wellness Center