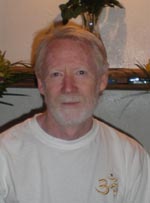 About Mukunda Stiles, FoundER, Structural Yoga
Mary is blessed to pass along teachings imparted to her by Mukunda (Tom) Stiles to other serious students of yoga and prospective yoga teachers through the SYTT program. Mukunda Stiles was a true master yogi and lover of life … of God. He was devoted to spirit, to love, to living and teaching a life of balance through the Trilogy of Yoga, Ayurveda and Tantra. Mukunda Stiles, was one of the American pioneers of yoga therapy and an advisor for the International Association of Yoga Therapists. He founded Structural Yoga™ Therapy and authored the best seller with the same name, Structural Yoga™ Therapy – Adapting to the Individual, as well as The Yoga Sutras of Patanjali – with Great Respect and Love, Ayurvedic Yoga Therapy, and Tantra Yoga Secrets.
Mukunda was a devotee of Swami Muktananda (Baba), who gave him his Sanskrit name. Most fitting, Mukunda means 'the One who liberates'. It is said, he who has this name is reminded constantly of this highest goal. Baba guided Mukunda in the 900-year-old lineage of Prof. T Krishnamacharya, who essentially brought Yoga as Therapy to the West – and professed "Teach what is appropriate for an individual." Mukunda took that teaching seriously. He studied with senior teachers including Indra Devi, BKS Iyengar, AG Mohan, and TKV Desikachar.
Although Mukunda left his body in February of 2014, his presence lives on in the hearts of many of us as only divine light and love! His wife, Chinnamasta Stiles, bears the torch by continuing teaching the Trilogy, which includes the advanced training to become a Structural Yoga™ Therapist. The SYTT will provide the foundation for those programs; which can provide continued studies and depth for spiritual and personal growth.
Inner Quest Yoga & Wellness Center
You are the visitor. Thank You for stopping by.